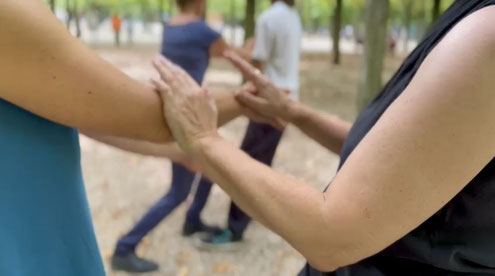 Beim Üben der Taiji-Form ist es wichtig, entspannt zu sein. Der Körper ist korrekt ausgerichtet und zentral stabil. Die Bewegungen sind sanft und die Körperhaltung genau. Das gilt aber nicht nur für die Taiji-Form, sondern auch für die Partnerübungen (Pushing hands oder Tuishou).
Meister Huang hat dies klar formuliert: "Ich habe noch nie jemanden mit einer hohen Stufe in den Taiji Pushing-hands gesehen, der nicht zuerst extrem genau in der Taiji-Form war."
Beim Üben der Form lernen wir, innere Kraft aufzubauen und die Kontrolle über unser eigenes Zentrum zu gelangen.
Erst wenn dies geschieht, werden wir auch die Pushing hands subtiler ausführen und das Wechselspiel von inneren und äusseren Kräften verfeinert anwenden.
.
When practicing the Taiji form, it is important to be relaxed. The body is correctly aligned and centrally stable. The movements are smooth and the posture is accurate. This applies not only to the Taiji form, but also to the partner exercises (Pushing hands or Tuishou).
Master Huang has stated this clearly: "I have never seen anyone with a high level in the Taiji Pushing hands who was not first extremely accurate in the Taiji form."
In practicing the form, we learn to build inner strength and gain control of our own center.
Only when this happens will we also perform the pushing hands more subtly and apply the interplay of internal and external forces in a more refined way.
Based on Patrick Kelly: Infinite Dao.